Design · Development
Revamped interface design for pet lovers
We assisted Basepaws, a pioneer in pet genetics, in creating a streamlined process for pet owners to register and track health tests for their cats and dogs.
Overview
We have completely revamped the interface and user experience of the Basepaws account system. This allows users to easily edit their information, register their pets, and track the status of their test reports.
Client's Team
Tech Lead
Marketing Team
COO
Our Role
UX Design
UI Design
Front-end Development
The Client
Basepaws is a petcare genetics company founded in 2017 that offers at-home pet health testing tools that allow the recognition of diseases in pets based on DNA analysis and oral microbiome. Basepaws was featured on Shark Tank, the reality TV show where entrepreneurs seek funding from sharks.
Although they started only with a cat DNA test, they later incorporated the oral health test for cats and finally they also incorporated the dog DNA test. In 2022, Basepaws became a member of Zoetis—the world's leading animal health company.
The Challenge
When the Basepaws team asked us to design the user system, their number one goal was to make a look and feel more cohesive with the website and the brand, but without starting from scratch: we only had a couple of weeks to work on both the design like development. Also, its secondary goal was to modify the current user flows to include more information and new features.
The Process
We decided to work in three very short stages in time:
Analyze the user flows of that moment according to usability and user behavior by following videos on Hotjar, one of our tracking tools, to align ourselves with the client;

Design a couple of quick wireframes to define navigation alternatives and content structures, as well as sketch a couple of alternatives for navigation and content structure at the wireframe level, to validate as soon as possible;

Finally, apply a layer of visual styles following the guidelines of the web at the time.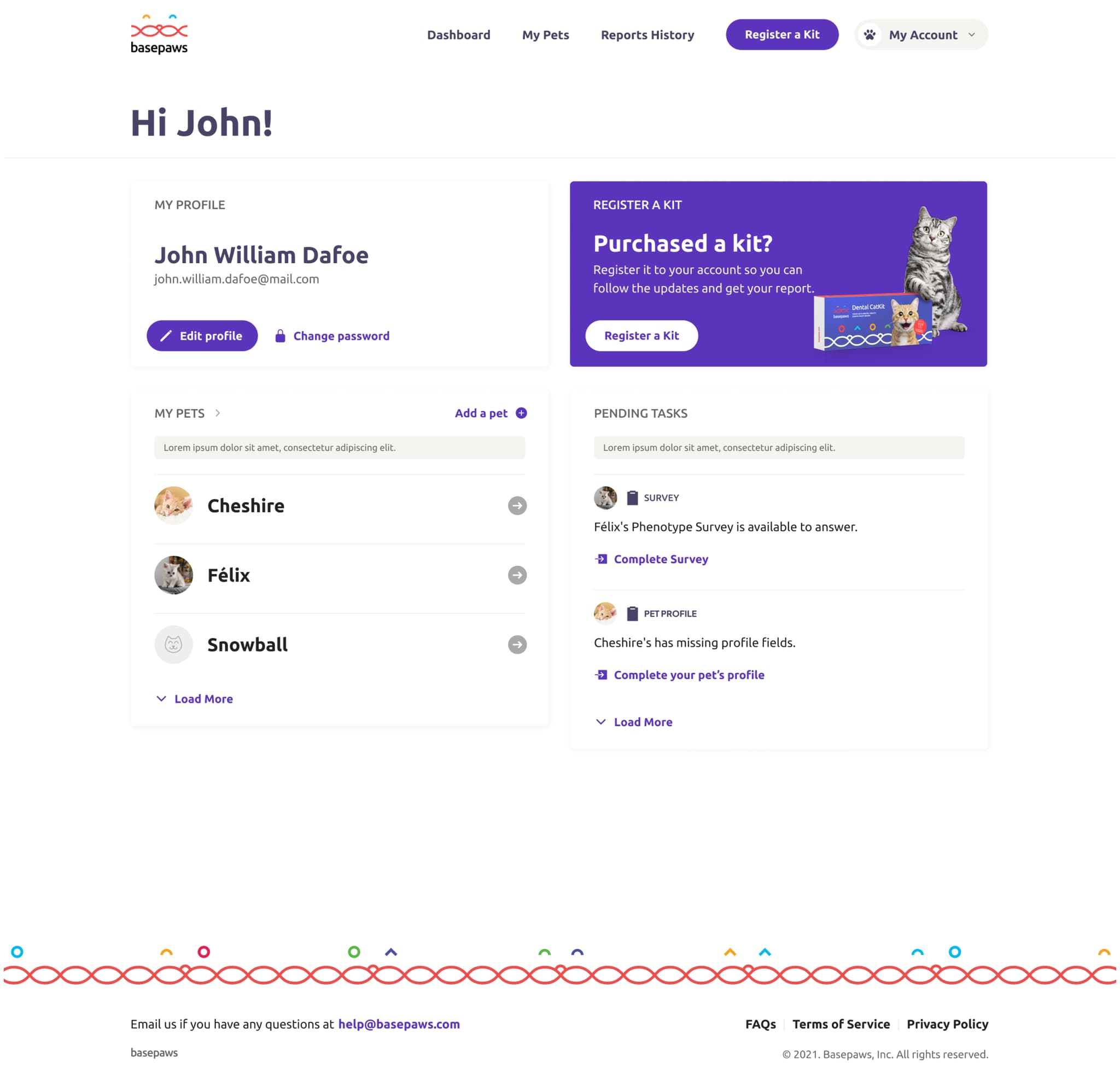 The Results
Once both the Marketing and Science teams at Basepaws were happy with our design, they asked us to move forward with the markup and development. When the new user account system was released in Beta, we sent out a user survey by email. Although we took it with a grain of salt, since it was a small group of users, their responses allowed us to validate that the new design was accepted, since we obtained an average rating of 4.27 out of 5. In addition, we were able to know what users want for their cats and define upcoming features.
These results were the first steps in a collaboration over the years as Basepaws digital partners. We continue working on visual improvements and development of new features for the user account system, but we also began to work on other instances of its digital ecosystem, such as its website and the vet portal.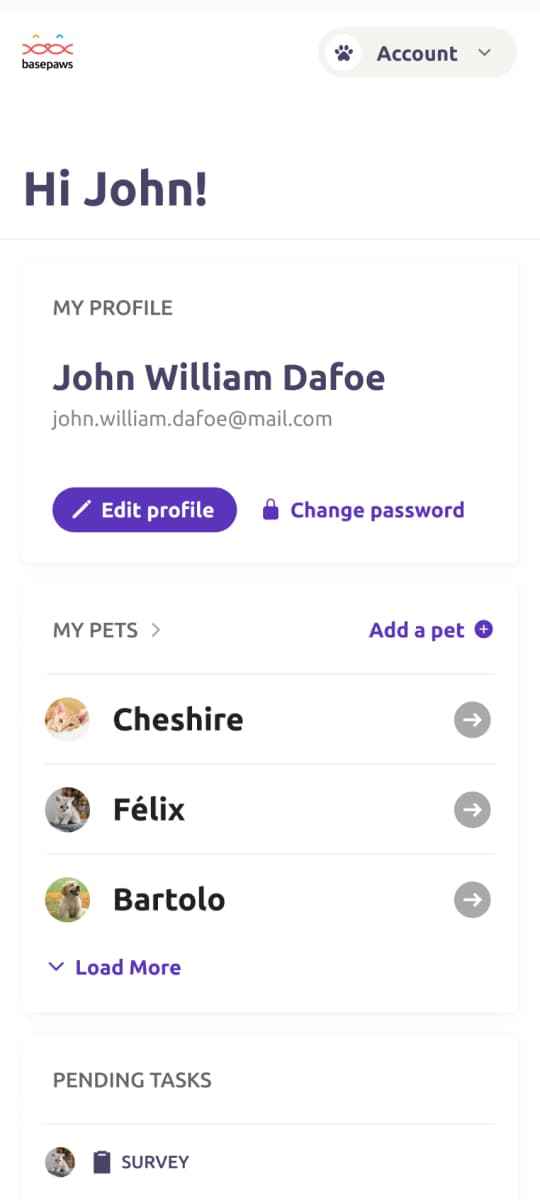 A completely revamped interface and user experience.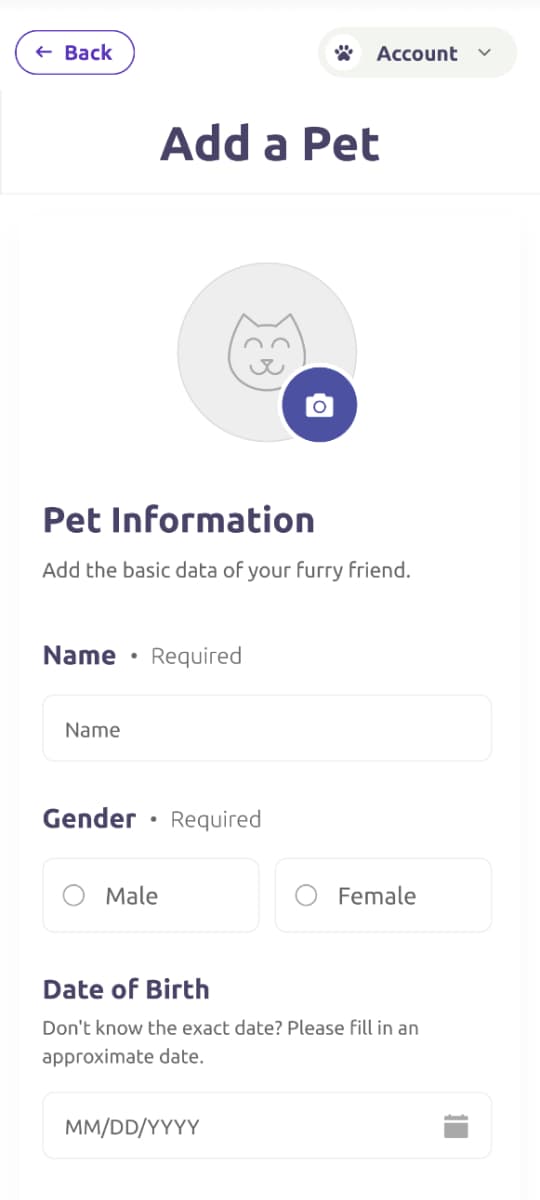 Better tracking of report status.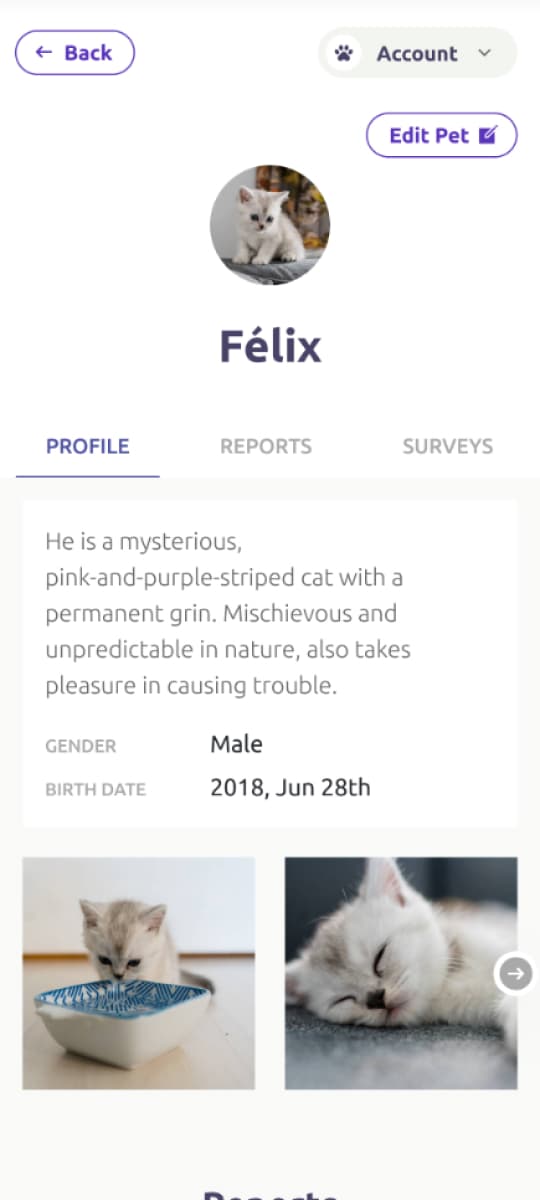 More user control over account and pets.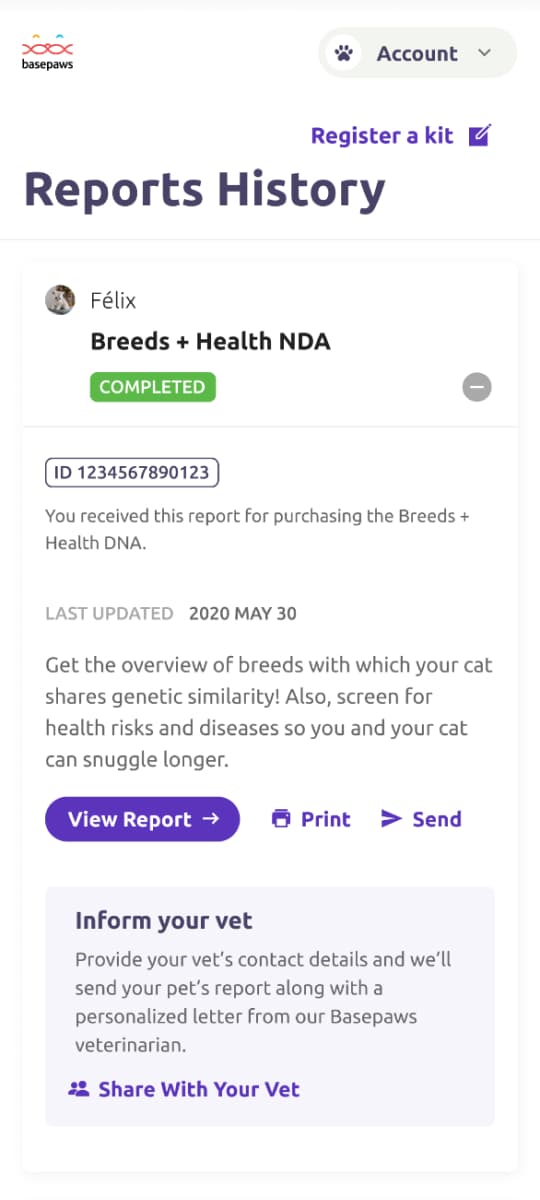 Registering a kit is now simpler and more dynamic.
The System
One of the things we like to highlight about this project is that is that we created a component structure with scalability and cohesiveness in mind. This way we bring consistency across the interface, save time (and money) by creating a shared UI vocabulary that allow us to work faster, design better and be ready to tackle new requirements without having to reinvent the wheel each time.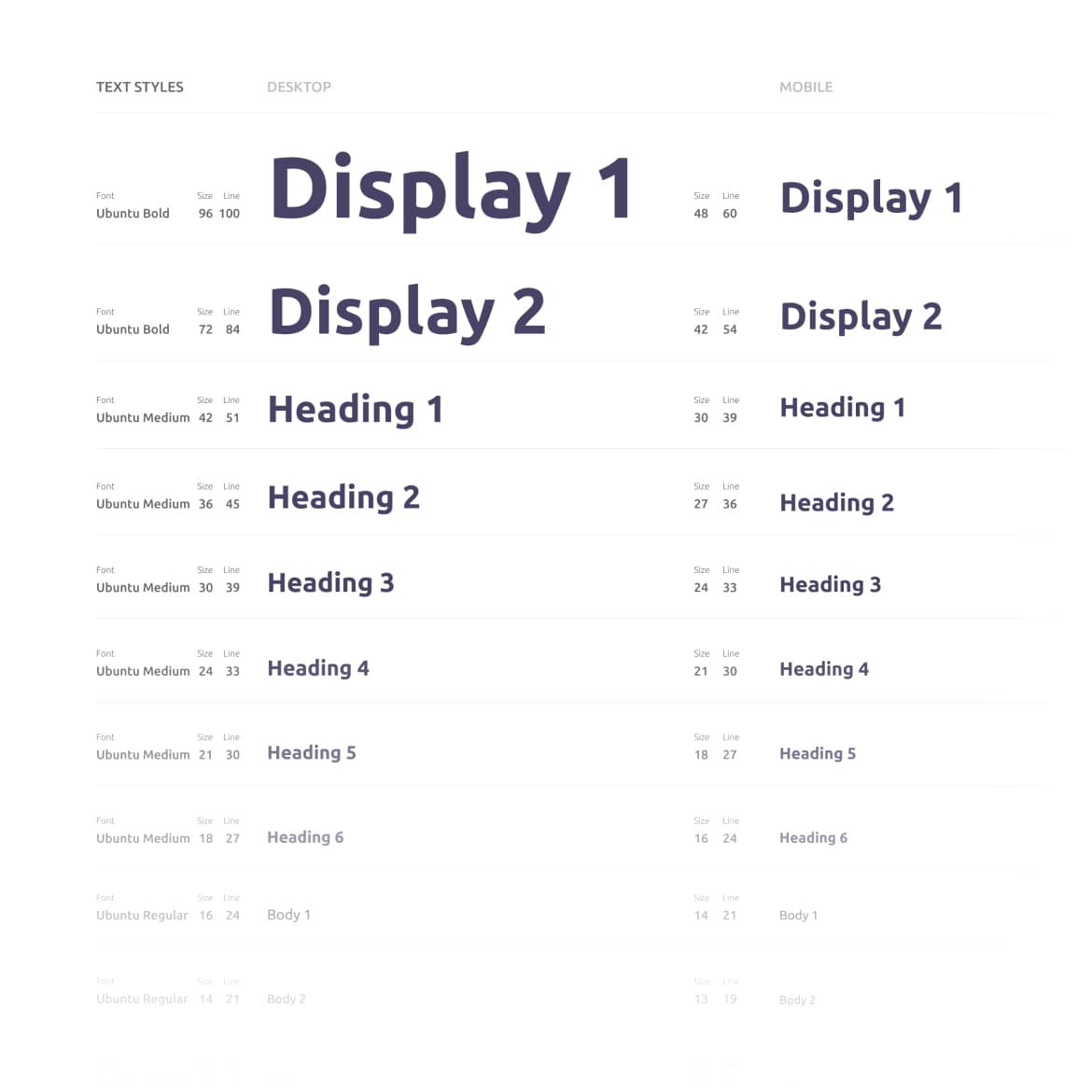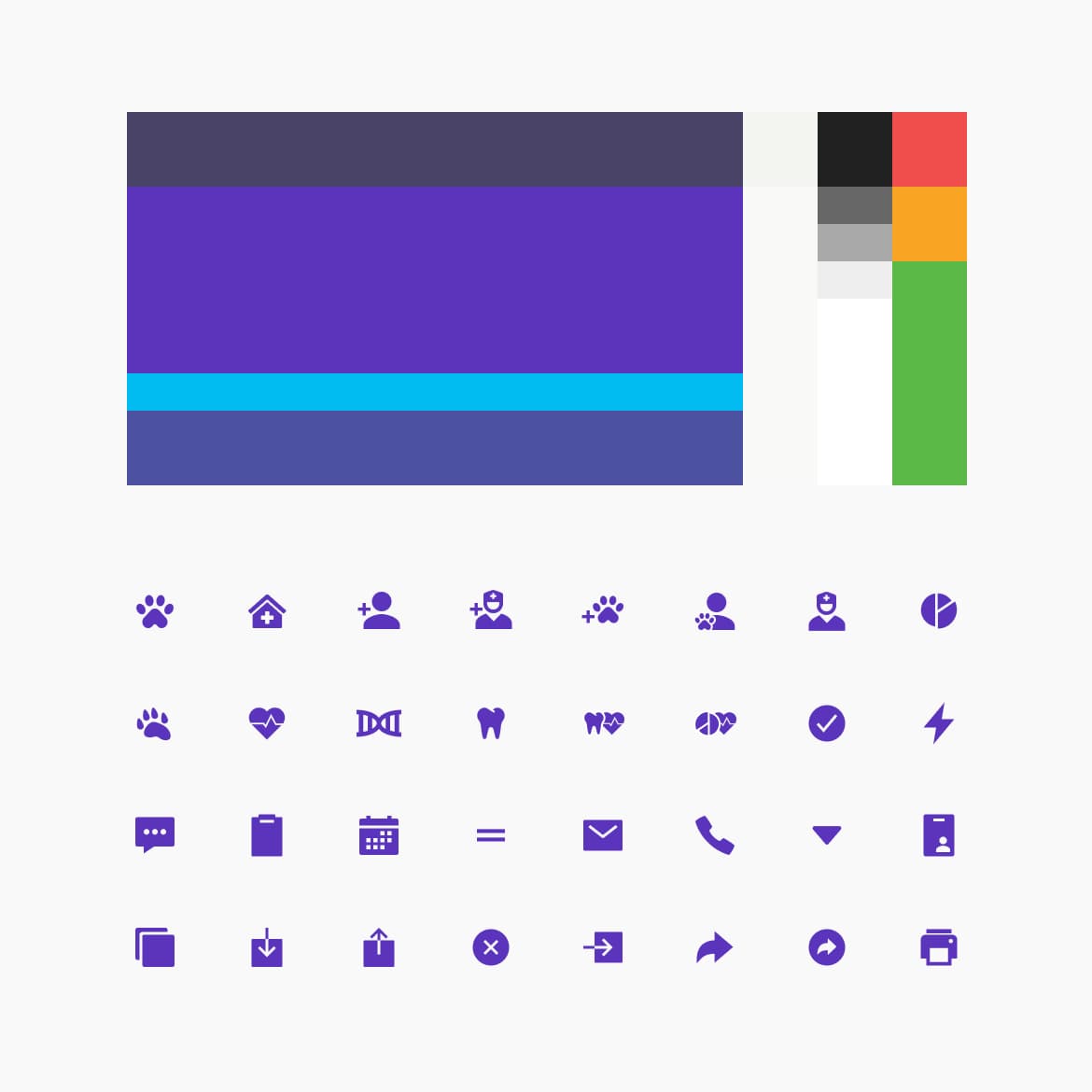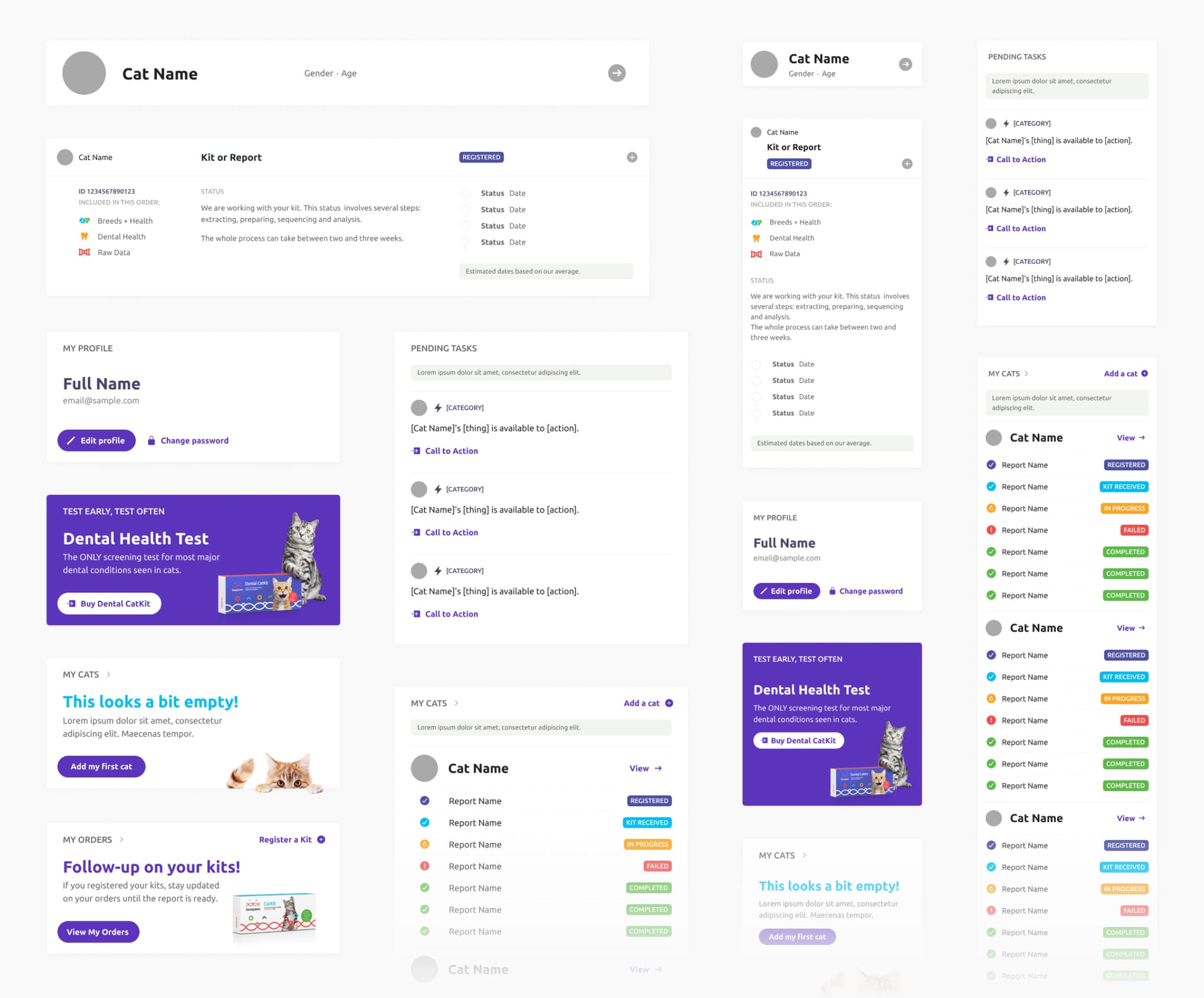 Reviews
Application was easy to use, instructions clear. Website is user friendly.
Cora (Amazon)
The test kit is easy to use, easy to mail, and the website and reports are colorful and detailed.
Item Man (Amazon)
It's all done online. Register and review. Very happy when we figured it all out.
Roccovito (Amazon)
I loved that you kept me up to date on the time frame of how long it would take.
JC160 (Amazon)
Not only was it fun and interesting, but I was also able to send health information to my vet!
Linette B. (Website)
Wonderful service! I am very happy that this information can also be shared with my vet.
Item Man (Amazon)

Do you need help with design, branding, or development?
Hire us