Branding · Design
Gamifying the way people train at home
We helped Krew to redefine the experience of training at home and turn Zoom meetings, and IG live feeds into rich interactive training sessions.
Overview
We have refreshed their visual identity and redesigned the interface and user experience of the platform to offer a delightful customer experience that captivates a group of very engaged returning users.
The Client
Krew connects personal trainers, physiotherapists, and nutritionists with people seeking personalized health coaching.
Born out of the Pandemic, the Krew team realized that millions wanted to work out and had to do so from their homes. Telehealth was exploding and soon to become the new normal during that period.
On the other side, they saw professionals who didn't have the right product to cover this new demand.
The Technology
Krew was built on top of scalable and dynamic P2P typologies, resulting in a higher-quality video stream with lower latency and more security than what you get with Zoom and others.
It also delivered AI features directly from the video feed, from body motion tracking to heart rate detection, allowing professionals to oversee their students and prevent injuries.
The Challenge
Krew approached us to redefine its entire brand communication and redesign its platform and main workflows to validate a product/market fit, all of this in a two-month timeline.
The Process
Since we had to pull this off within a tight deadline, we decided to run the project in two major parallel tracks.
On one hand, we redesigned their existing visual identity to match the new brand strategy and generated a wide range of marketing assets, from post templates for social media to videos.
At the same time, we closely collaborated with Krew's product team to redesign the platform's user experience and design.
To ensure the success of the project, we had to carefully plan and validate each milestone so that these dependencies do not affect the other and everything at the end.
As a creative partner, our goal was to add clarity of voice in Krew's visual communication, allowing them to engage with multiple audiences through a solid platform and ecosystem design.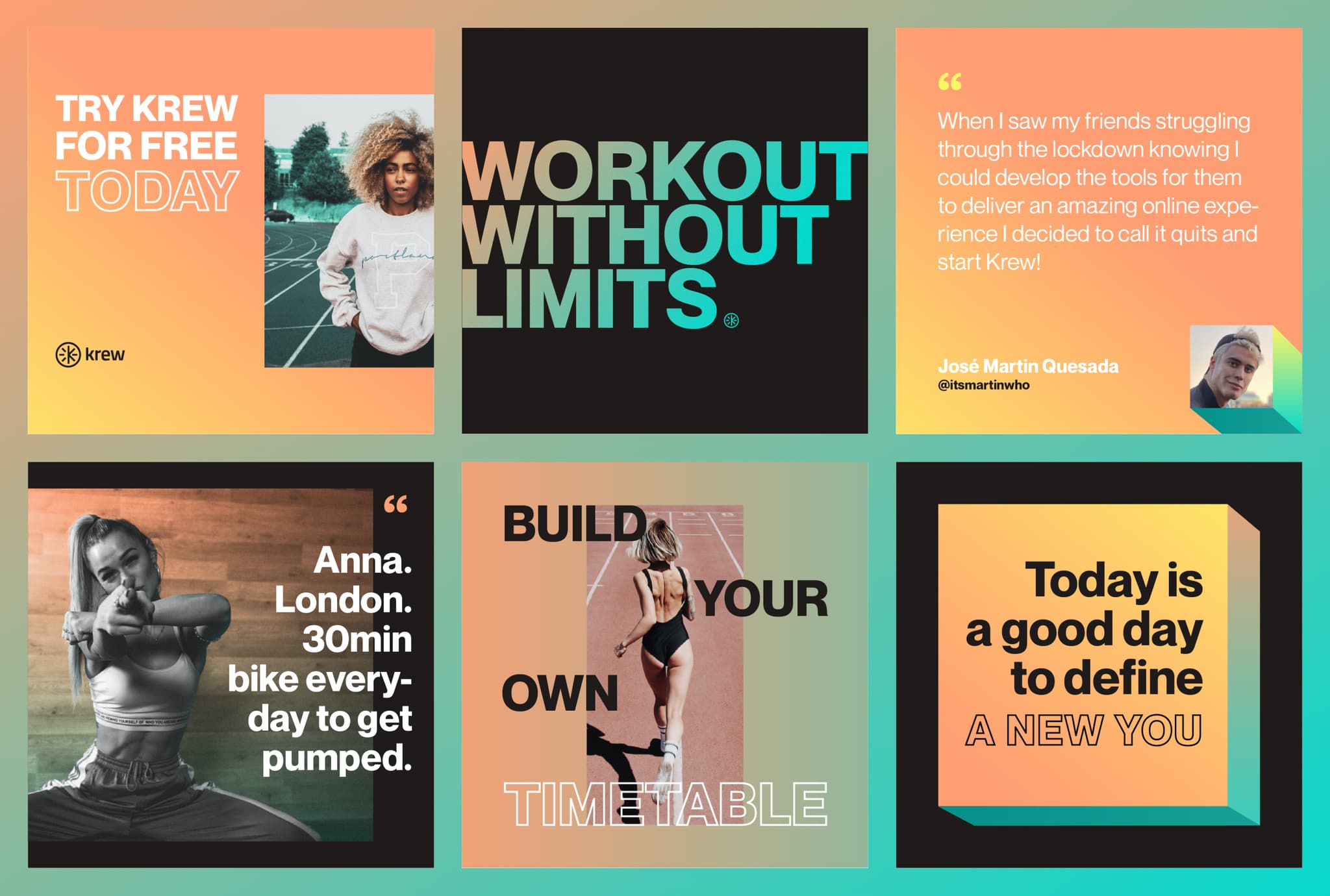 Fun Facts
During the Pandemic, Google searches for "home workouts" skyrocketed by 239%

6M people in Great Britain exercised daily during the lockdown

They made it into the Golden Kitty Awards finals from Product Hunt in 2020!

The platform was rated 5 out of 5 ★
Do you need help with design, branding, or development?
Hire us