Branding · Design · Development
How We Helped an Established Spatial Biology Startup Grow
Overview
Lunaphore, a life sciences firm specializing in biomarker research, faced an outdated website as they grew. We were able to fully revamp it, increasing traffic by 60% and reducing bounce rate by 80%.
The solution we implemented included modular design, UX/UI, backend, and front-end work. A dynamic design system, scalable WordPress site, and integration with platforms like Airtable and Hubspot were key. Positive feedback from stakeholders and clients followed the successful launch!
Client's Team
Marketing Ops Manager
Marketing Manager
Head of Marketing
Our Role
Branding
UX/UI Design
Front-end Development
WordPress Development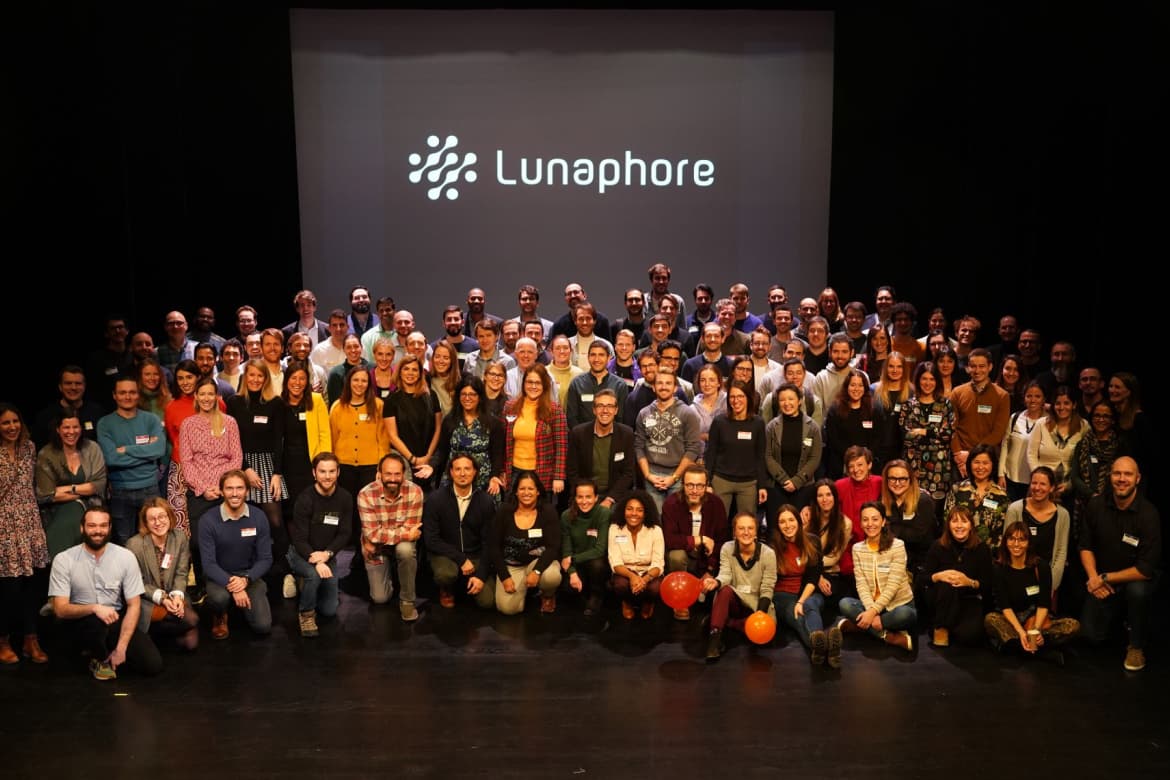 The Client
Lunaphore is a life sciences company that builds solutions to simplify technology adoption in translational research laboratories. They were founded in 2014 and are currently headquartered in Tolochenaz, Switzerland.
Their remarkable technology is able to identify biomarker "signatures" with clinical relevance, helping to streamline diagnostic tools, clinical trials and therapeutic development.
Although they had a small but mighty team, they stood out as early as a year after their inception with their nomination for the TOP100 Swiss Startup Award. They later won Second Place in 2019.
In 2022, Lunaphore announced its acquisition by Bio-Techne Corporation (NASDAQ:TECH), a global life sciences company. This would propel them to new heights and require even more power on the branding and marketing front…
We started working with Lunaphore at the very beginning of their startup, covering projects like:
Support and maintenance for both design and development

Accompanying the growth and changes of the website according to the needs of the company and its users

Creation of other digital and interactive products

Promotional and sales materials in events and business meetings
The Challenge
"Our website was created in 2015 and our company has grown immensely since. We need our website to reflect our new positioning, offerings and tone of voice and integrating it with our core marketing technologies."
With great growth comes great challenges. Lunaphore needed help in revamping and refreshing their website and marketing assets to suit their growing brand.
We had been enjoying a very successful partnership with Lunaphore for under a decade, so they felt like it was only natural to choose us to take care of this challenge.
We were tasked with designing a brand identity and corporate website which could articulate the scientific requirements of a leading biotech company with the signature innovative style of their young founders, while remaining startup-budget-friendly.

The Solution
"We have been working with Moka since the inception of the company and have gathered only very positive experiences so it was a no-brainer to take our company to the next level with an agency that already knew us and we also knew."
Lunaphore's WordPress site needed a full revamp both in terms of visual identity and functionality.
We dove straight into the project and began our modular approach: we created content modules with different layouts that are reused on different pages, making it easy to edit and create landing pages.
We put our whole team to work – UX/UI, backend, front end, system architect, and integrators. We needed to take care of not only the integration of different platforms but the full build of a scalable WordPress-based site integrated with Airtable, Hubspot and plugins like Gravity Forms.
We created a dynamic design system robust enough for the ever-evolving nature of a startup. Keeping things completely self-manageable for the Lunaphore team, our aim was for their new website to remain as scalable as possible.
"Over the course of the multi-year collaboration with Moka we have only experienced outstanding subject matter expertise, clear communications and expectation management and world-class UX/UI solutions."
The Results
"Everything met or exceeded our expectations."
Once the new website was successfully signed off on and published, we immediately continued to make improvements and expand the website to include complex information in an efficient, easily-digestible way.
We have continued to collaborate with Lunaphore to accompany their growth and shape the website according to their changing requirements. We're hugely proud that our collaboration with Lunaphore was able to aid their growth, and we've received great praise from partners, stakeholders and colleagues all around!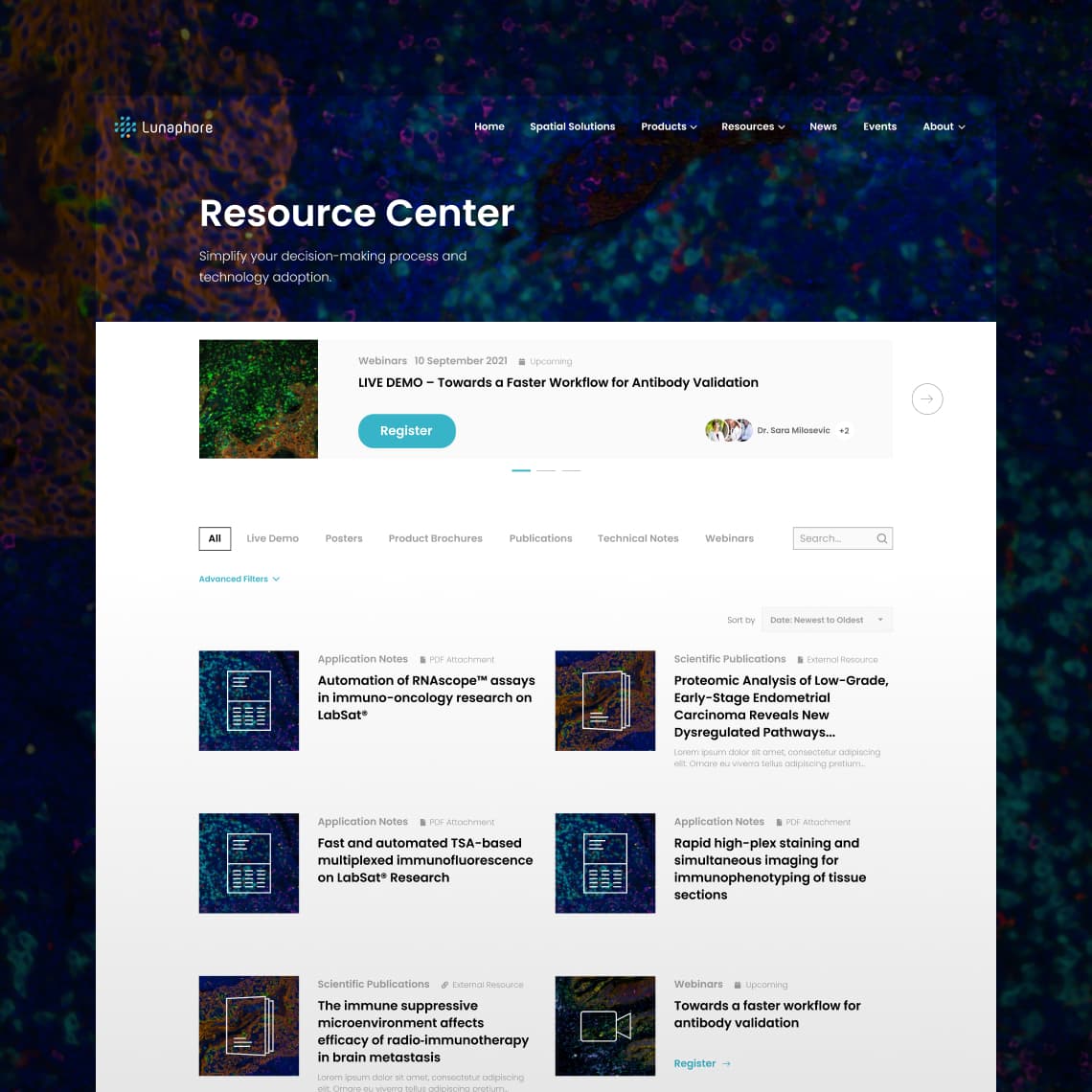 We implemented a Resource Center where data is shared, upon request with forms integrated into Hubspot.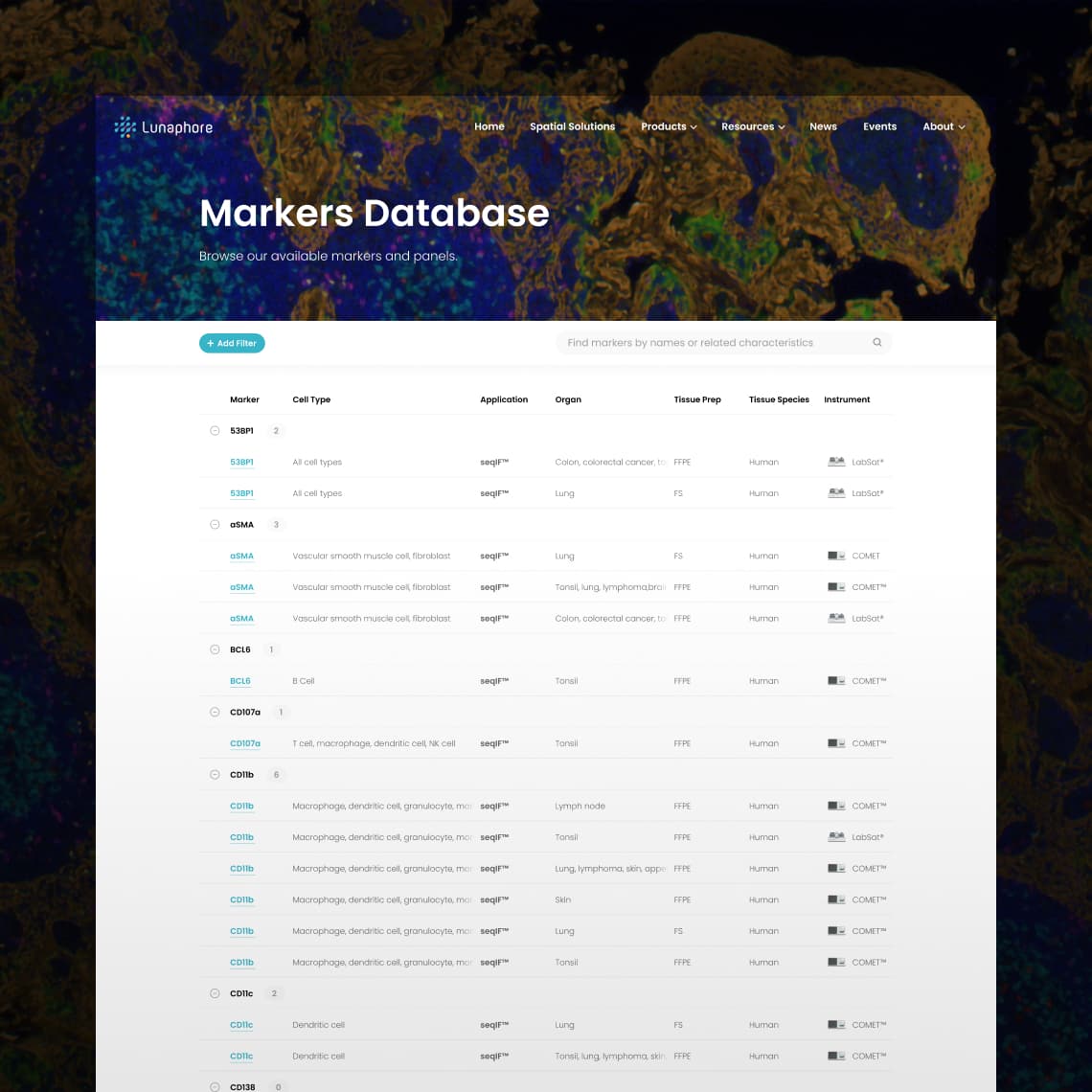 We integrate the marker protocol database from Airtable with advanced filters and a user-friendly visualization.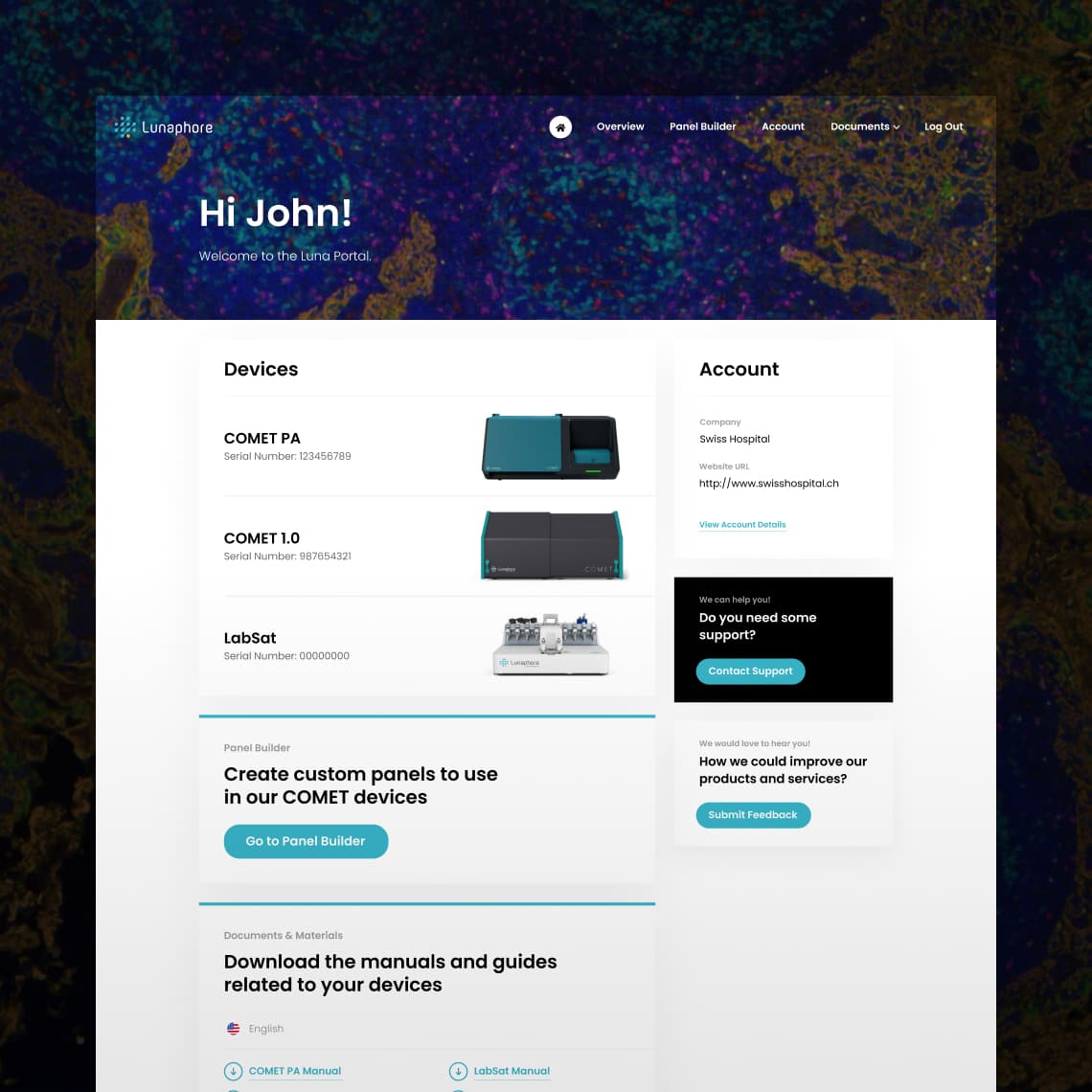 We created a Customer Portal where clients can download exclusive materials, request support and many more!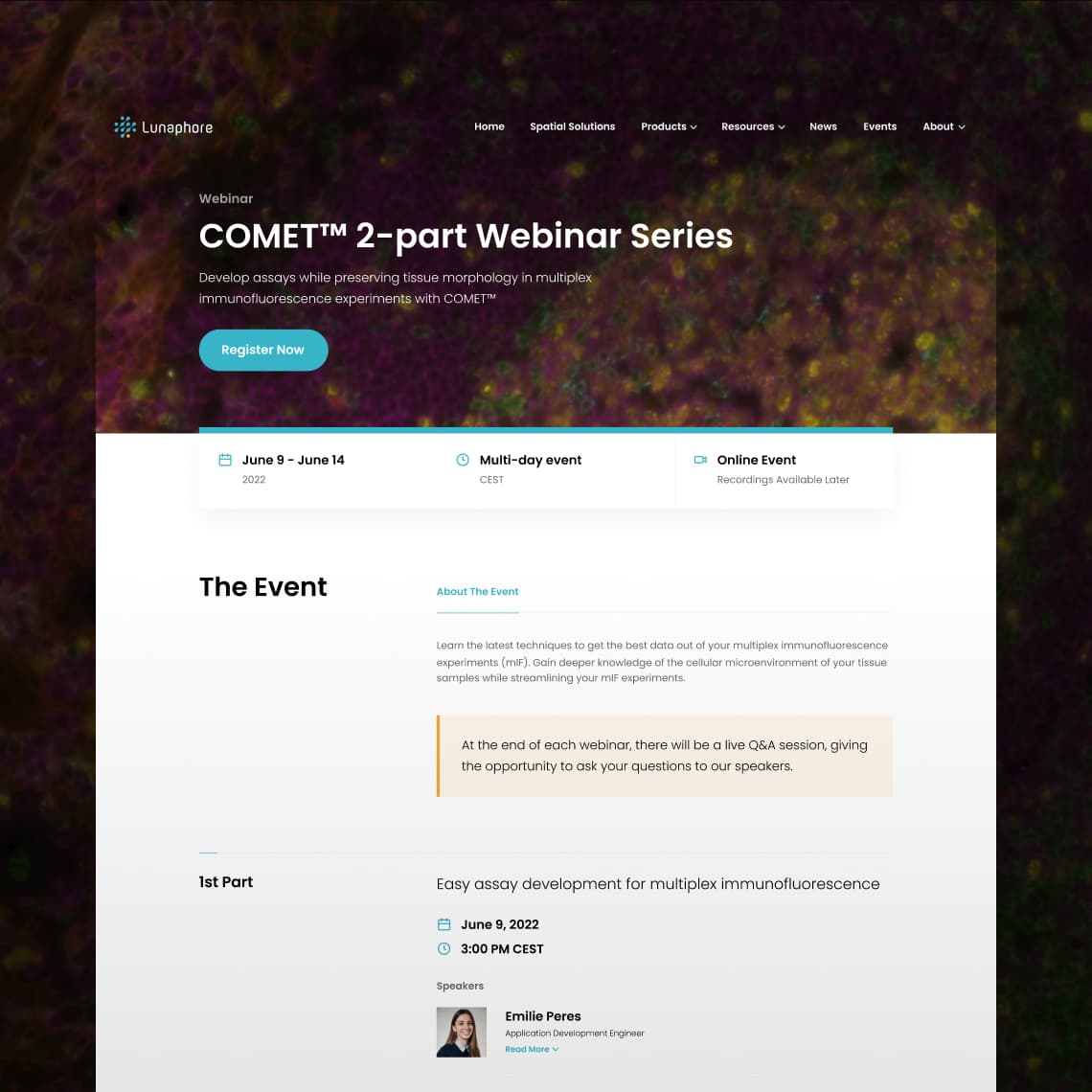 We implemented an Events section with detailed information taken from the BigMarker platform.

Do you need help with design, branding, or development?
Hire us