Design
A fresh take on learning how to play music
From website design to creating marketing campaigns, we continually collaborate with Tomplay, an interactive sheet music platform.
Overview
Tomplay is a leading platform for interactive sheet music, with an extensive catalog for all instruments, levels and musical styles. Since its inception, we have collaborated with the design of the app, the website and also its commercial materials, such as large multi-language banner and video campaigns.
Client's Team
QA / Dev Team
Marketing Team
CEO / COO
Our Role
Digital Product Design
UI Design
Graphic Design
Motion Design
The Client
Tomplay is a Swiss startup which reinvented the sheet music and made it an interactive and immersive playing experience.
The Challenge
Tomplay seeks to make every musician (whether it's a professional concert pianist or a young kid dreaming to be a popstar) life simpler by making scores understandable.
With that in mind we tackled our first mission: refreshing the app's UI, making it more inviting to use. As we succeeded and gained the founders' trust, they pose us with a new challenge: to improve UX and in-app engagement across multiple platforms.
The Approach
Post-its! It is a well known fact that no great UX can be made without using lots of post-its. We threw ourselves into the process of understanding how musicians learn to play and practice music, at the point where we started using the app ourselves. We can even say we became amateur musicians. Can we?
The Process
Repeat after us: It-er-a-tion. Yes, our designers are geeks and love all the possibilities that this simple, yet powerful word provides, specially when it is complemented with observation, concept exploration and learning. Endless rounds of iterations is what the process is made of.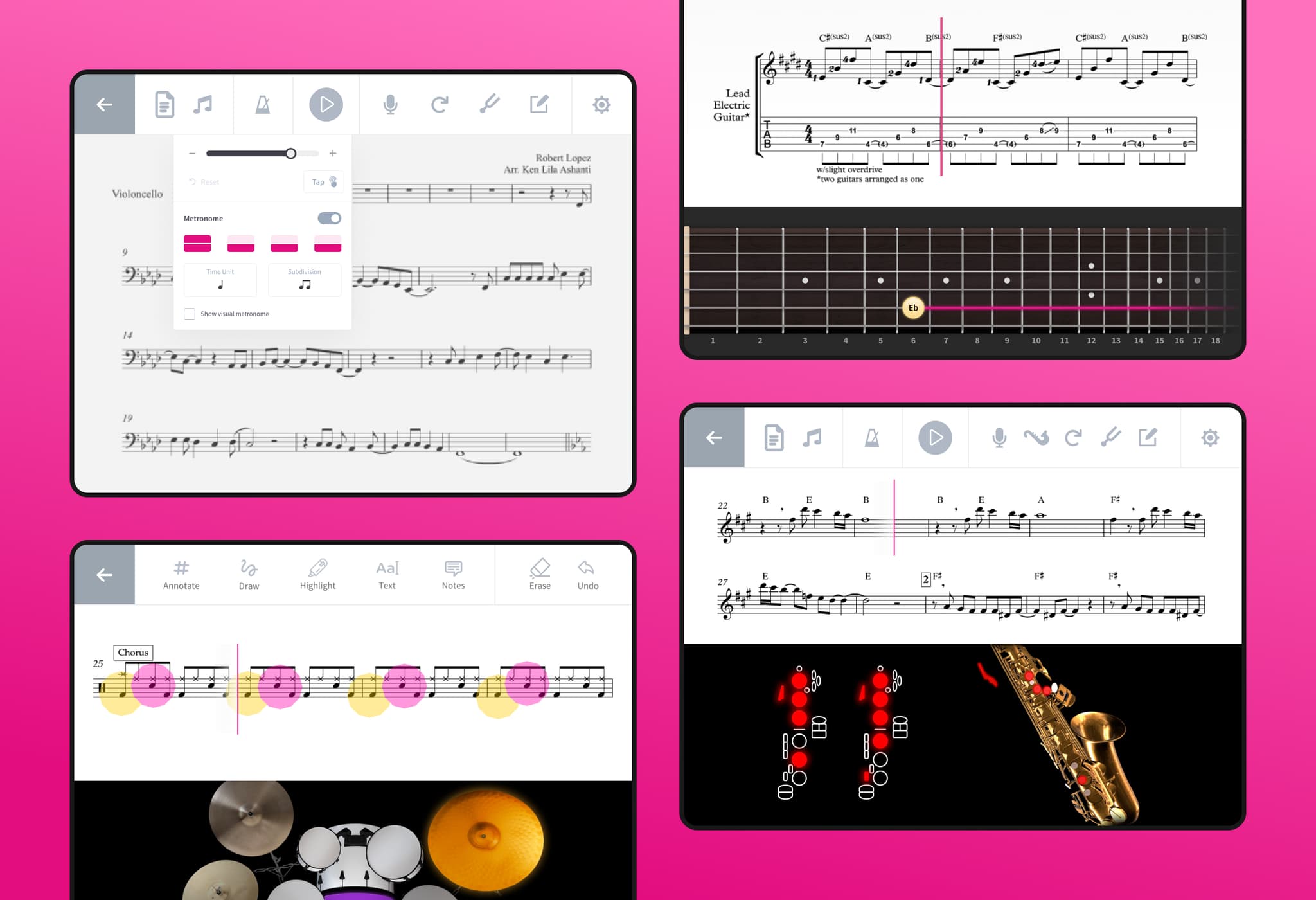 Reviews
I LOVE this app
This is what I have been waiting for for so long. I miss not being able to play in a group and this app gives me the feeling that I am playing in an orchestra again. It makes playing fun again.
Beth (Google)
Makes practice very fun!
There's a great collection of repertoire and new pieces being added as people request. My favorite Brandenburg to play with full orchestra! Or duets! I can vary the tempo or repeat tough passages. Keeps my practice fresh and fun.
Claire (Apple)
WOW
I just started the free trial. I couldn't stop playing. This is amazing, especially now that our music group has not been able to meet regularly. Thank you.
SoDoJoDe (Apple)
Excellent learning tool!
Duis lobortis lacinia placerat. Etiam tellus velit, elementum eu orci vel, pulvinar dapibus odio. Suspendisse potenti. Donec dapibus leo volutpat elit tempor, et semper lorem suscipit.
Jacqueline (Google)
An incredible app and a complete game changer
Thank you Tomplay, an absolute pleasure every single day. My alto sax and I are addicted to you now
Nikolina (Google)
Great practice tool
I love this app. Practicing along with accompaniment is so beneficial. And the ability to annotate, adjust tempo, and record is icing on the cake. I highly recommend this app.
Janicecello (Apple)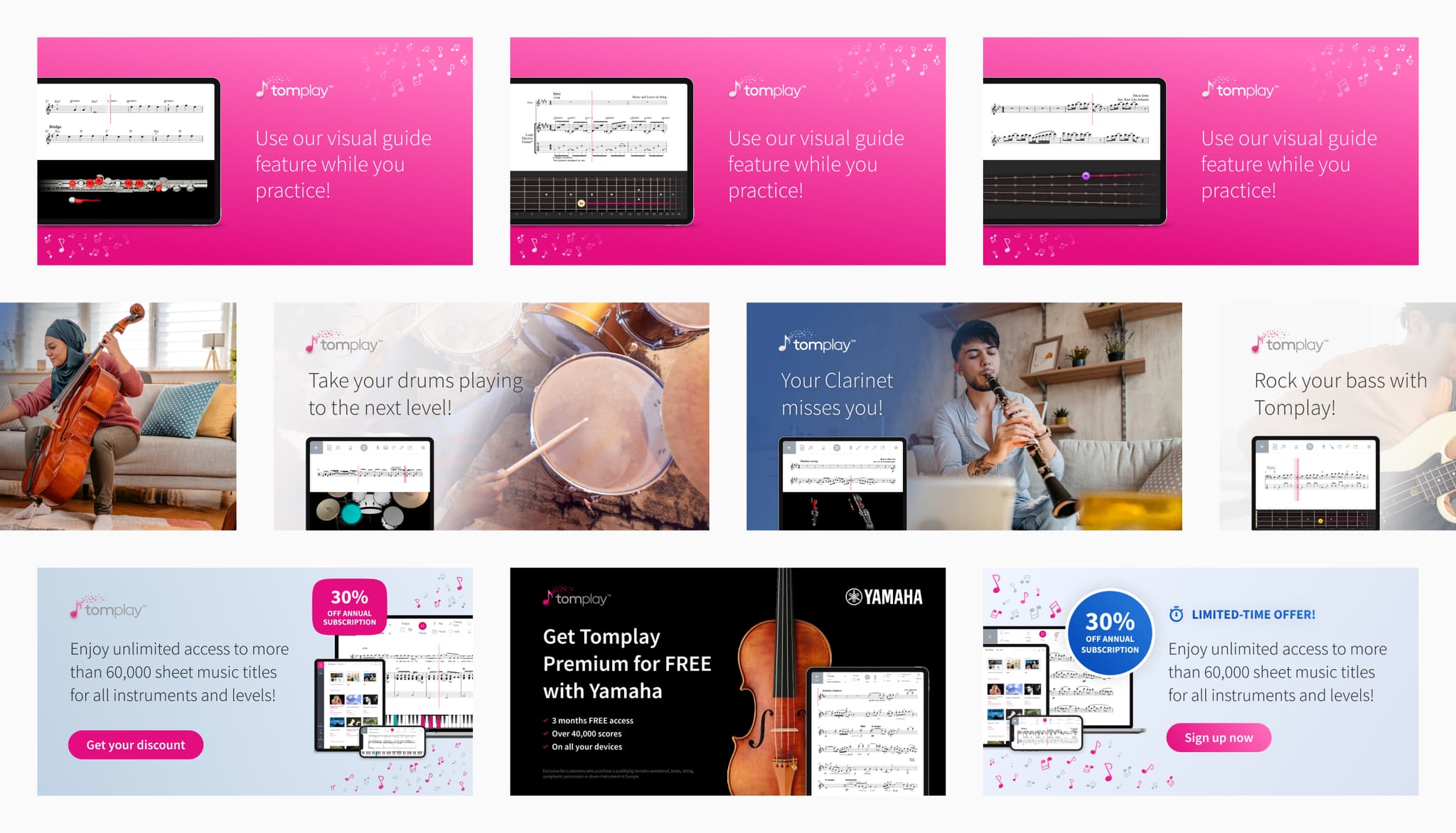 The Evolution
Today, we joined forces with Tomplay's team and work on a daily basis to improve the user experience across multiple devices and touchpoints, perform research and tests, iterate on the current website and multi-device app, and do consultancy in terms of product roadmap and user growth. Our goal is to make this app the go-to choice by amateurs and professional musicians from all over the world.